Happy New Year to all!🎊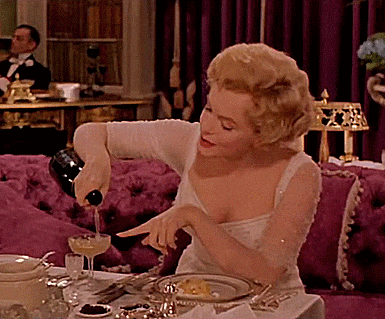 May 2022 be kinder to you than 2021 and may it bring you good health to enjoy life to the fullest and complete all your projects! 🥳 🍾
Have you made any good resolutions for this year?
Or like me, have you decided to simply do your best?
After all, as far as I'm concerned I try to make good resolutions all year round as life force us to do sometimes. It's better to make adjustments as we go along than to wait for the fateful 31st of December, isn't it?
Although it's true that the idea of a blank year full of promise is quite a booster.
I mean, it seems to me that it's both more constructive but also more liberating to do this throughout the year: you put less pressure on yourself and you free yourself a bit from diktats. You try, you do your best and if it doesn't work, it doesn't work. You save your energy either to go back and do it better later, or to move forward towards what really matters.
In any case, this is the resolution I made some time ago and I stop beating myself up with key dates and injunctions.
The times we live in are already stressful enough without that.
Nevertheless, I have some news to announce for 2022.
Most of them are not really new because they were initiated last month or even announced earlier.
But anyway.
As planed, the content of the tiers has been modified.
This decision follows the vote (limited to subscribers from the 2nd level onwards) that accompanied the Patreon post where I explained that the cost of printing and sending the counterparts exceeded the amount of the Patreon subscriptions.
To make the minimum number of prints imposed by the printers profitable, I wanted to send the stickers and postcards to as many of you as possible, but I quickly realised that this was a bad calculation.
So, from this month on :
The stickers will only be sent as a counterpart from the 3rd level "Into the Labyrinth" onwards.
The postcard will only be included from the 4th level "Yellow Brick Road" onwards
I will stream live videos
In December, I made two test videos on the streaming platform Twitch which allowed me to see what I could do. Moreover, as I received a mobile phone holder as a Christmas present, I will be even more comfortable than I was during these 2 tests.
There's no doubt that an adapted articulated arm is still better than a bulky microphone stand nicked from your darling. 😆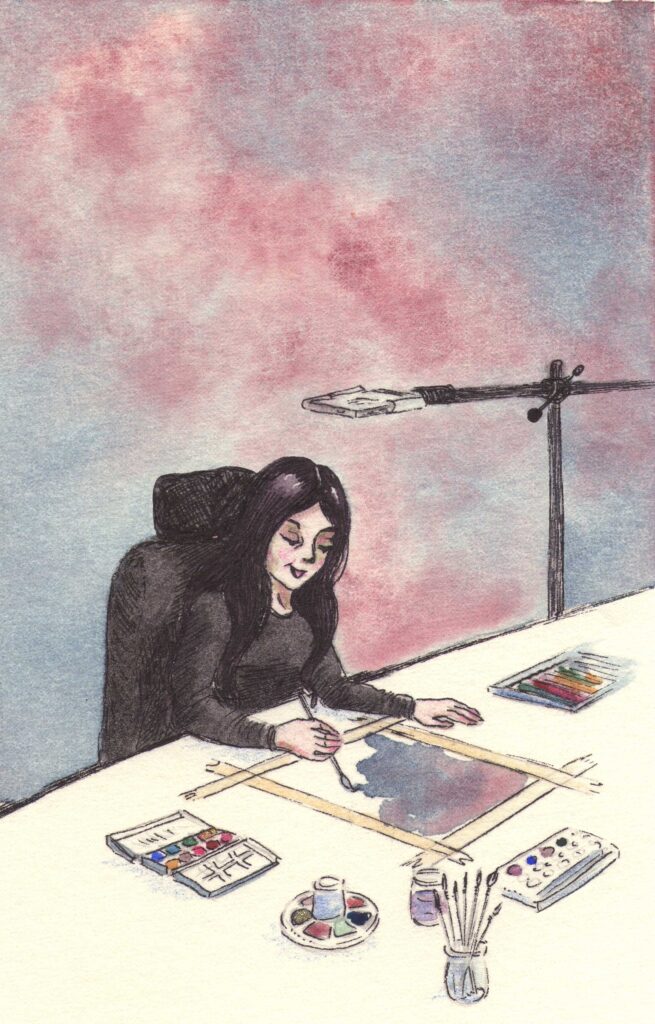 Twitch is a streaming platform with a built-in chat that provides fun live sessions.
You talk to me via chat, I answer you…
We chat while I work.
I've decided to work online from time to time to make my work known a bit more.
However, I'm also thinking of doing live videos on YouTube ( more accessible I think) but also on the private Discord linked to the Patreon rewards.
You know Discord, it's the half chat/half forum application that you have access to from the 2nd level.
It can be installed on your computer, tablet, phone…
There are themed written chat rooms, but also vocal ones.
That' s right!
So you can communicate in writing, vocally via your phone, but also any device with a microphone and/or webcam.
You don't have either?
No worries, you can still watch me draw or… play a video game (sometimes I " stream " Skyrim, Witcher and other games 😁) even if I don't have much time to play these days.
I would like to make more YouTube videos and not just timelapses
With this new articulated phone holder, I would like to make more videos about my business, the behind-the-scenes kind etc and really get my YouTube channel going.
I don't know yet what form these videos will take, nor what I'll show in them, as I'm more of a "live happily, let's live hidden" kind of person than an exhibitionist.
However, I can see that in order to be known you have to be visible and not be afraid to talk about your work 🤔
It's very difficult to find a balance between the two and some of my colleagues, otherwise confirmed Youtubers like Louisa (Ectomorphe) have stopped doing vlogs (video blogs) or showing too private content.
However, I think there are some 100% professional topics that are perhaps worth sharing about and that might interest people.
For example: why do I have 3 different shops (RedBubble, Inprnt, my personal shop)?
Why don't I have an Etsy shop anymore?
What professional status did I choose (Artist Author and not Self-Entrepreneur) and why?
That kind of stuff.
I realize that I myself have watched quite a few videos from fellow illustrators on this topic and that the viewing of this type of video does not decrease with time: there are always people curious about our behind-the-scenes work or future illustrators looking for answers. 🧐
By the way, if there are any topics that interest you, don't hesitate to let me know in the comments. I'm curious to know what topics you would like me to create content on.
I also invite you to subscribe to my channel, which will allow me to be more visible and thus gain subscribers and even possible clients!
I'm going to try to use my Blog better/more
And yes! Because my professional website does not only contain a personal shop (currently closed), it also has a blog.
Many years ago, I had a blog called The Dreaming (created between 2003 and 2005) on which I posted quite regularly. Over the years I abandoned it and when I created my activity and the website associated with my activity as an illustrator, I had planned to resurrect it.
However, apart from a few timid articles, I didn't post much on it, mainly because I had opened my Patreon in the meantime, and I was blocked by the idea of repetition: what to say on Patreon? What to say on the blog? What content should remain exclusive? What should/could I show to the public?
A real headache.
For some time now, I've had my Patreon posts automatically published on my blog, but accessible only to my patrons. So once you're on my site, one can log in a Patreon account and have access to the restricted articles.
In the same vein, those who want to read these articles must subscribe on Patreon. 😎 Hehe.
This is the principle I chose for the exclusive Patreon postcards on my personal shop: to buy the monthly Patreon postcards that are still in stock, you have to be a member on Patreon.
Otherwise, the purchase is refused.
But then, if you are a Patreon subscriber and you want to buy a card from before your membership or other copies to send to your friends: it is possible!
By the way, I'm thinking of reopening the shop in February.
Reviewing my business approach with a good business plan
As you can see there are some new things and changes in the works.
Some of the decisions I made in 2021 were clearly not the right ones, but that's the way it is when you are self-employed.
You're the only one in charge and sometimes, in terms of marketing/communication etc., you mess up.
That's the risk of wearing several hats without having any perspective.
Some time ago I started to work seriously on my business plan in order to know where to go in 2022.
I've already made some observations about my communication method (the under-use of my blog and YouTube channel for example) or my expenses (the counterparts more expensive to produce than the amount of support)… hence the above news.
But there are still other things to adapt and better target that I will put in place once this plan is finished.
Of course, the theme " REVIEW 2021 " would have been a good theme for a Youtube video (very fashionable and very "put a click" as they say).
But maybe it will be for 2022.
The time to make other Youtube videos beforehand and not to turn up at a bad time with a video of this type on a half-empty channel that only offers Timelapses for the moment.
It wouldn't have been a good idea and the result would have been zero. 😅
So, to sum up: a lot of work to do.
On that note, I'm off to make the January sticker (late because of the holidays) and the February sticker (to make the printer's postage costs worthwhile) and to send you your December counterparts (now that the post office has been cleared).
See you soon for more illustrated dreams! 👁️⭐☁️🌈
And until then take good care of yourself. 😷
XXX
Sophie/Lucy