Hello everyone,
I hope you are well and that you are enjoying this beautiful and bright spring without suffering too much from hays fever. 🌿
Some time ago, in a previous blog post, I told you about Patreon and the idea of subscribing to an artist: you adopt an artist on a monthly basis and receive immaterial or material rewards, depending on the level of support chosen.
Today I'm here to announce a reorganization of my Patreon and the creation of a new tier for small purses at 1€ 🙂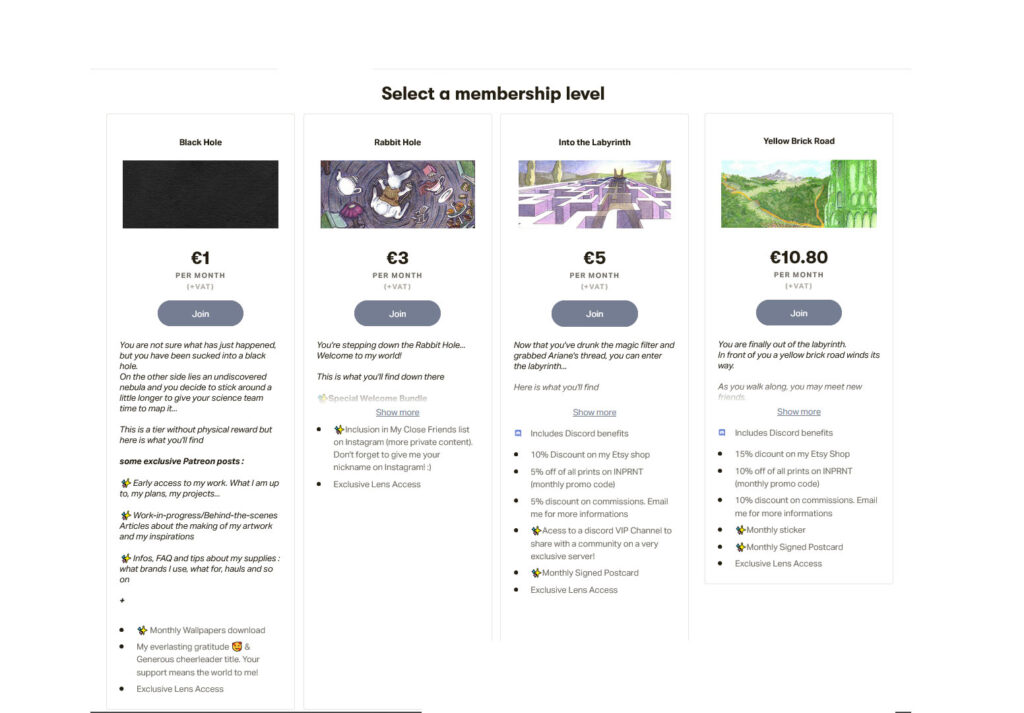 I've been wanting to set this up for a while, but I needed time to think about it and do my best to make things as fair as possible between the amount of support, the rewards and their regularity.
Click on the image to enlarge it.
But let's look at it more closely:
A brand new tier "The Black Hole" €1 🕳️
It was designed for people who come to Patreon without knowing what to expect and want to support me while testing the waters at a lower cost.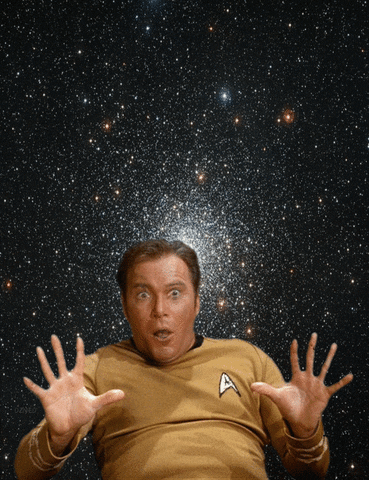 So I designed it like a black hole absorbing a spaceship: "you don't know where you've just arrived, but when in doubt, why not stay a while and study this still unmapped nebula? "
Given the principle of this tier and the amount of the subscription, I am not including the Special Welcome Bundle in the profits, as the shipping costs alone already exceed the monthly sum.
Furthermore, for copyright reasons with regard to the author of "A." (the book I am working on), subscribers at this level do not have access to the video previews or the exclusive Patreon videos.
However, they do have access to downloadable wallpapers and Patreon Lens (you know those ephemeral -24h- publications that work a bit like Facebook or Instagram "stories").
The Rabbit Hole 3€ 🐇
This tier is for those who have taken the plunge into the unknown with a clear conscience 😉
Its content remain unchanged but there are some new stuffs on september 2021:
First of all, subscribers will receive the Special Welcome Package containing the 3 bookmarks of my Gormenghast illustration and the exclusive, numbered and signed print of my Sailor Moon.
Then, as for the previous tier, subscribers of this second one have access to wallpaper downloads, to exclusive Patreon articles about my projects and their evolution… as well as access to two different kinds of videos and 1 live stream :
Time-lapse videos of my art making which are posted on Patreon as a preview, then made public on Youtube between 15 days and 1 month later

Videos about the Aurore illustrated book project. Out of respect for the author who wrote the story and with regard to the publishing house we are going to approach, even in private publication on Patreon, I can't share beautiful and precise scans of my work. However, I can show theprogression of the artwork on private exclusive videos and post some details of work in progress or finished illustrations.
Live twitch sessions for patreon subscribers where we can chat while I work.
By subscribing to this tier subscribers will join my "VIP" list on Instagram, which will allow them to see Stories in which I post Top Secret content. 😎
This tier also gives the opportunity to vote for the next illustration (which will be available as wallpaper, postcard, stickers), but also for other upcoming content.
Finally, this level gives you access to significant rewards:
Access to a private discord server to chat
Into The Labyrinth 5€ 🐮
The amount of this tier does not change, and the benefits are the same as the previous tiers (Welcome Package, Exclusive Content, Voting, Access to videos, sticker…).
It also gives access to discounts on my online Shop, Inprnt and commissions.
And here are the new benefits :
A signed postcard every month
The Yellow Brick Road 10,80€👠
The amount of this tier does not change either.
Subscribers get all the rewards of the previous tiers (Welcome Package, Wallpapers, Voting, Videos, Postcard, Server Access included).
Higher promotions on my shops and commissions.
What is changing :
For various reasons, I am no longer offering the original A5 portrait to people who subscribed to this tier after May 1, 2021.
So here are the new features for now. I'm still working on two new tiers in which I would offer a monthly A5 print in one and the original A5 portrait in the other. But I'll tell you more in due course. If you have any questions or comments about these changes, please feel free to let me know in comments. I'd really like to hear your thoughts on the matter. 😊
For now, I'm off to finish editing the sound for my next video about the Storyboard of the book I'm working on which will be exclusively for my subscribers on Patreon.
I'll see you soon and until then, take good care of yourself.
All the best!
Sophie/Lucy