Hello dear readers,

As you can see, like I said on my last post, it hasn't taken me that long to come back and write here.
I'm still a bit overwhelmed with my multiple projects on the go, but at least I'm keeping this blog up to date.
Lately, I've been feeling like changing my creative habits a bit and renewing myself in the middle of the heatwave.
So, did it work?
Well, sit with a drink (hot or cold depending on your weather), because I'm going to tell you
Simple Watercolour Heatwave Tricks
So.
It all started well.

Initially, I was looking for an idea for the exclusive monthly illustration for my Patreon subscribers.
I had started sketching a witch jumping over a bonfire to link two late spring/early summer traditions: the jumping over the fire at Beltane (May 1) and the St. John's Day fire, which takes place around the summer solstice on June 21.
So here I am, looking at this sketch (which wasn't bad by the way) and thinking "Another witch? I'd have to change a bit!"

So I closed my notebook and went to bed, thinking that I should change the type of characters I draw too: after a while, it's as if I only know how to draw attractive young fit Caucasian women. Real Barbie dolls!
How I came up with this idea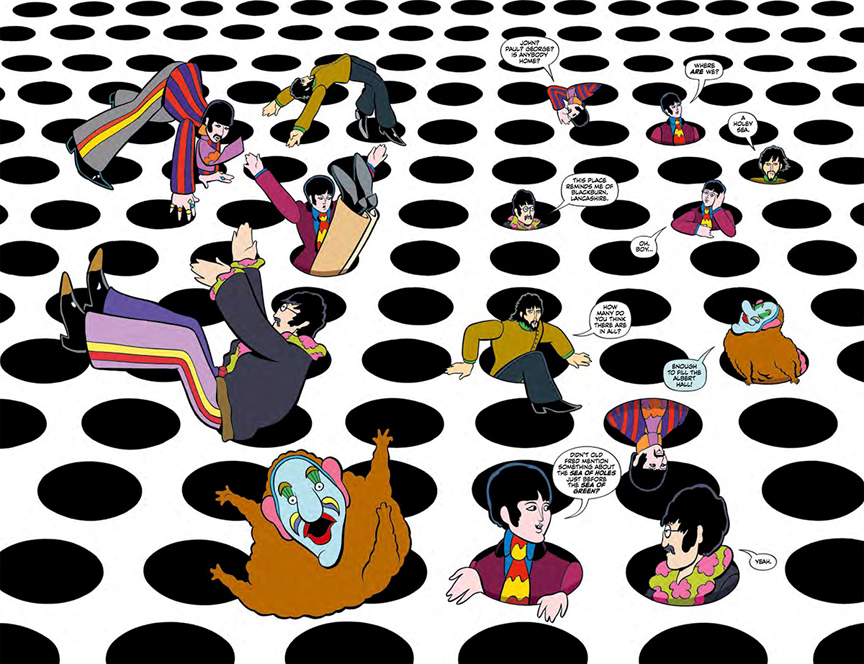 As I was falling asleep, an image popped into my head that I found cheerful and funny:
A little black girl with braids and overalls was running around in a strange space where the top, bottom, ground and sky made up of brightly coloured rainbows seemed to be reversed at times.

In fact, it reminded me of "The Sea of Holes" in the Beatles' film "Yellow Submarine".

The little girl was multiplied. She was coming out of the ground, out of the "clouds" of the sky, emerging from everywhere, joyful and full of life.

The colours and the atmosphere reminded me of the late 70's and early 80's and the whole thing was joyful, funny and completely at odds with what I usually draw.

So I decided to choose this scene to make the June Patreon illustration.
How I got my illustration ready to paint
As I was in totally unfamiliar territory, I wanted to prepare a bit.

I started by making some drawings of little girls jumping or running.

Then I worked on the background according to what I had seen. Unlike the scene in the Beatles film, the sky and the ground did not meet in my daydream.

So I tried to recreate what I had seen by finding a balance between perspective and dreaminess.
And that was no easy task.

I also wanted to respect the palette that I had seen while I was asleep.
Thanks to the website https://coolors.co/ , I was able to find it again to check some values, complementary colours etc.

If you want to know more about this process and the steps of this illustration, I invite you to join me on Patreon where I post all the behind the scenes of my work.
You can have access to all the sketches, essays, queries and tests from 1€/month !
Are there any Simple Watercolour Heatwave Tricks ?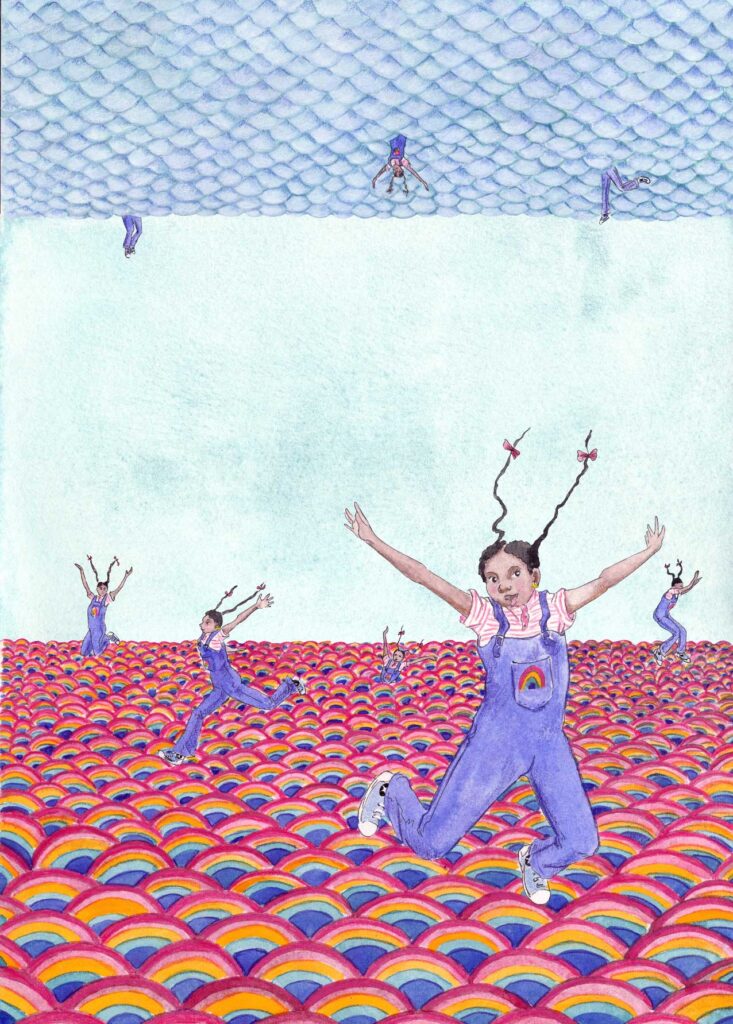 Once all the tests and trials were done, I moved on to watercolour.
In the middle of a heatwave.
And then, a catastrophe.

Part of the illustration was not a problem because it was just simple flat colours, but the upper part had to be done "wet on wet", that is to say as long as the surface and the pigments remained wet.

Alas, despite my experience with watercolours, the prior moistening of the paper, the fan and even the air conditioning… everything dried instantly.

As soon as I applied a few pigments from my dipped brush, they would freeze in place and it was impossible to stretch/dilute them with my brush afterwards.

The bottom line is that all the shading I had planned for the upper part was impossible to achieve.

So I tried to make up for it with gouache and coloured pencils, but let's be honest, it only made things worse.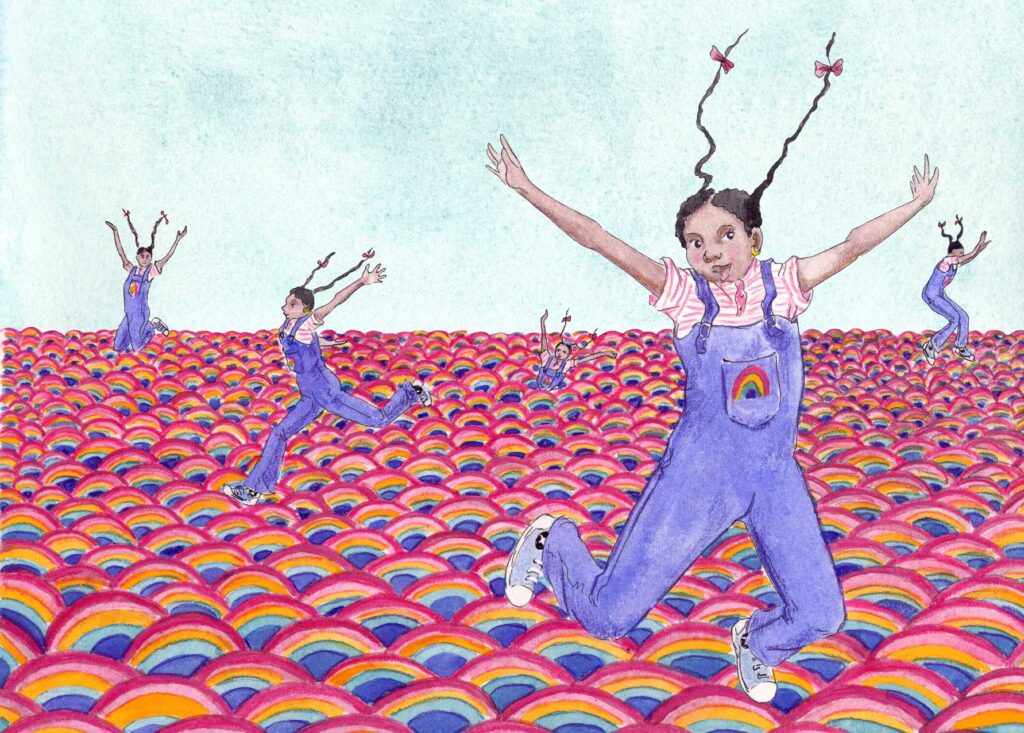 So needless to say, this illustration will NEVER be in my portfolio and I even wish I could destroy or hide it.
However, I chose to be honest and post it on social media to tell you how I screwed up so badly.
Of course, I asked my Patreon subscribers what they thought of this illustration, especially since I was already unhappy with last month's design.

But they thought that the postcard print could be saved by good framing and that the bookmark would be fine since I had only planned to use the little girl in the foreground.
So that's what I did.

I chose to crop the illustration to landscape and ignore the top part, which I ruined because of the heat wave, but which I think was not a good idea in the first place.
Conclusion: Should you leave your comfort zone at the risk of failing?
Well, the truth is… "out there"…
Hem.
Bad joke aside, yes, I think I did the right thing by doing something completely different.

First of all, it was an opportunity for me to work on certain things that I wouldn't have done in other circumstances, such as giving more life to my character.
And I'm still very happy with this bouncy little girl that I love.

It also allowed me to see that I still have a lot to learn with watercolour.
Even though I have been using it regularly and I would even say intensively for years, I still sometimes make beginner's mistakes that I have already encountered in the past.

Lowering your guard when it comes to paper's absorption capacity (especially hot-pressed, satin-finish Arches paper) in a heat wave is never a good idea.


Of course, you can wet your paper three times more and water your brush even more, but quite honestly I think it's better to simply avoid some watercolour techniques with the temperatures we're experiencing since global warming entered its non-return phase.

Flat tints yes, working in cool and gradations… no.
I think it is no coincidence that many of the great masters of watercolour are British: having a good level of humidity in the room helps a lot to work properly.
Apart from the purely technical aspects of illustration, I also think that getting out of one's comfort zone makes sense for learning. Because there is always more chance of failing in a first attempt than in a hackneyed "routine".
Yet what is learning if not a series of trials and errors repeated until improvement is achieved?

As a self-taught person I cherish those moments when I fail. Because I know that it is only an opportunity to do it again… without making mistakes the next time: I will be better prepared and more experienced.
The main thing, apart from the fact that the learning process continues, is that I have managed to come up with prints that "work", for my subscribers.

As you can see, I framed it as a horizontal image to make a decent postcard and the bookmark, centred on the little girl in the foreground, works well. I embellished it with a quote from a young Nepalese poetess that I found very cheerful and appropriate.
PHEW!

Well, just when I said that my June illustration had better be much more beautiful than the May one!
In a way, to me, it is.
I really like my bouncy little girl, her overalls and the 70's/80's rainbow vibe.
But as this is far from perfect, I will have to give it my all for July.
However, no watercolours on the menu. Because even if the temperatures have dropped a bit in the last few days, I can assure you that we are on our way to another summer heat wave ( one of the first in a long series, alas).
So I'm very likely to use ink and coloured pencils, like I did for the Luna Lovegood portrait.

This hot situation is also very annoying because I had to stop working on the illustrations for the top secret children's book I'm preparing with Virginie Gobert-Martin. As I'm not going to mess up this long work, I'm saving the finishing touches for cooler days.
This bothers me because I really wanted to finish the mock-up to present to the publishers as soon as possible.
But I'm not going to talk more about it here, for copyright reasons, so if you want to know more, it'll be on Patreon, but only from the 2nd level at 3€/month.

Anyway, I'll be back here soon with my other ongoing projects and therefore new illustrated dreams. 👁️⭐☁️🌈
I hope to see you around here and until then, stay cool and take good care of yourself!